Living in the trade capital of the country, Kathmandu, we often get caught up in the hustle and bustle of present day shenanigans. If we take a second to step back in time, Kathmandu was once a city of artists; Artists who moulded brass and copper, painted with gold and portrayed myths through dance and music.
At Aviskara we have been speaking to present day artists to share their stories with you.
Artist feature: Prakash Ranjit
The concept of emotion remains abstract in a world where it can feel like there is little left to explore. When described by language, emotions are limited to the confines of words and sentences but when described by art emotion remains vast and open to interpretation. Kathmandu based artist Prakash Ranjit has used mental health and internal exploration to inspire much of his impressive portfolio.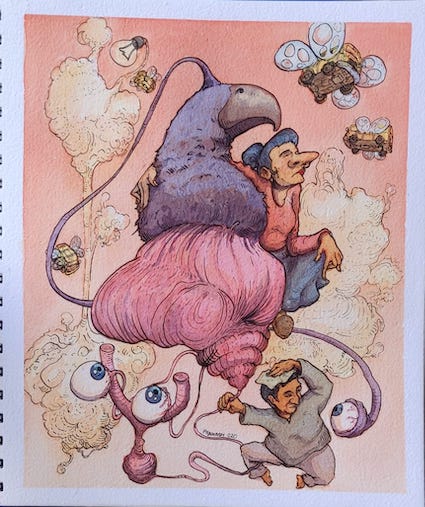 The art within
For Ranjit his art has always been a channel for self-expression and through reflection and the guidance of his therapist his craft has become his form of therapy. He uses different mediums and palates which expertly portray his imaginative twist on domestic life, and though he often portrays a certain light-hearted and comedic tone in his work, a vital social commentary on mental health and domestic struggles underly the majority of his work.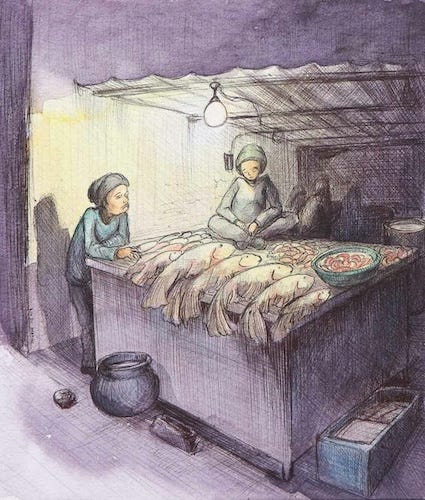 In his exhibition '365, not just a number' he put together a years worth of his art journaling to help raise an awareness of mental health through documentation of his own journey. Ranjit openly expressed that in a country where mental health has been and still is so stigmatised, reaching out for help is not easy. It took extreme lows for him to seek the help he knew he needed, and even then finding the right help in the form of the right therapist was not easy in Nepal. Mental health is a life-long journey and Ranjit inspires through his open expression of his ongoing journey both in dialogue and through his art.
Roots
Born into a family scattered with artists ranging from painters to conceptual artists, Prakash had several influences early in his life that shaped his take on the world of art. As a young artist he took inspiration from those around him and he would copy paintings of Swayambhu painted by his Uncle and illustrations from Indian comic books. As he grew older, he was introduced to performance art and installation art by his Aunt, Asmina Ranjit and to the landscape paintings of his Grandfather, Krishna Gopal Ranjit. You can clearly see ongoing influences from his early childhood in his current work.
Though the artist budded early on in life, as with many, Ranjit detoured into the security of what an education in science can bring. Though he performed well at school while pursing a higher education in science the artist within was uninspired and he soon re-routed back to the arts. Ranjit took art classes at the Shreejana College of Fine Arts and soon followed this with a Bachelors in fine arts at Kathmandu University.
The artist today
Prakash has found his niches in the artworld in Nepal and outside of his personal work he finds himself doing lots of illustrations for books. He is a versatile artist and has worked his way through different mediums including performance art, oil paints and digital art, however, his medium of choice today is watercolour and ink. This can be seen in the piece he has done for the Aviskara team under the 'K6' tab.
Prakash's advice to budding artists is 'Don't give up! Keep sketching everyday. That's the best way to gain confidence and to evaluate your work.'
Please find a small selection of Prakash's works below or use the button to visit his page on instagram: