As I sit down to write this, sipping on my matcha (more on this later), I realise that Japan is definitely the ultimate and unbeatable destination for food lovers. Efficiency defines life in Japan and this is reflected in the food culture here where meticulously perfected meals and snacks are available at a moment's notice. Japan offers delicious and high quality food for every kind of traveller. Whether you want to dine in style at Michelin starred restaurants, munch on street food as you walk the streets or snack on convenience store goodies late at night, Japan has got you covered. Ordering food in Japan is also an uncomplicated experience as many restaurants have hyper-realistic replicas of the dishes they serve presented in their windows, so you can decide what you want to eat and order it easily as you wait to be seated. Tokyo is the most Michelin starred city in the world, with Kyoto coming in third and Osaka fourth meaning there is no shortage of luxurious dining in Japan. However, while it is expected that high end restaurants serve the very best food (with prices to match), it was the street food and affordable eating in Japan that blew me away and is what I would recommend to anyone visiting.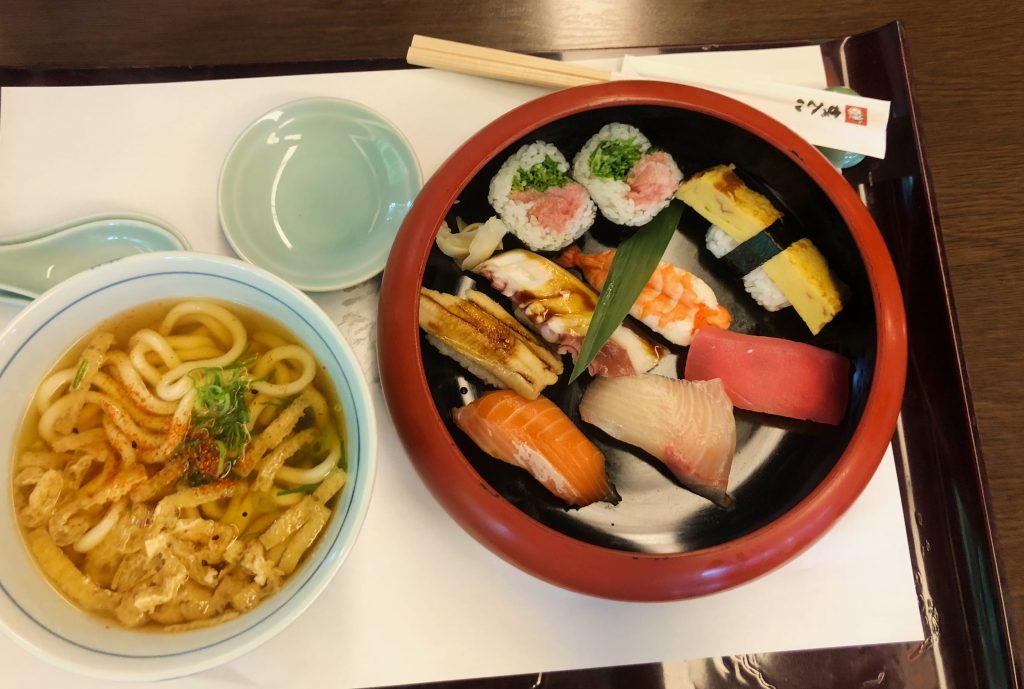 My impression of Tokyo, the world's most populated city, was that it is a place where the past and future come together to create one of the most interesting sensorial experiences in the world. The old world of shrines, temples and Imperial palaces is integrated into the ultra-modern world of neon signs, technological efficiency and fast paced twenty-first century living.
The Harajuku area in Tokyo is a street food hot spot. Here you will find all the staples of affordable Japanese street fare. I spent almost a whole day walking the streets and trying everything that caught my eye. Out of these my favourites were Takoyaki, which look like donut holes but are actually savoury dough balls filled with octopus and other seafoods, Tamagoyaki which is a sweet-salty omelette served on sticks, and Crepes! I definitely did not expect that crepes would be a popular street food snack in Japan but this classic French dessert has been given the Japanese treatment and is served filled with sweet fluffy whipped cream and fruits, all presented beautifully in a paper cone which makes for convenient hand-held snacking while you window shop. Another unexpected but hugely welcome discovery in Japan was the world of convenience store food and drinks. There are three main convenience store chains in Japan: Seven-Eleven, Lawson and Family Mart. You will notice several of these stores on every street in Japan and some hotels even have a convenience store within their premises. While it may seem like a corner shop may not be the most palatable place to eat from, I can assure you these are an absolute haven for snack lovers. Along with the largest variety and most uniquely flavoured selection of crisps, crackers, canned and bottled drinks (like clear coca cola) you will find cooked food that rivals most Japanese restaurants around the world. My favourite of these was onigiri which is a ball of rice which contains a filling such as salmon, pickled plum or tuna with mayonnaise, shaped into a rounded triangle with a seaweed strip running around it. I ate at least one of these every night that I was in Japan and have craved them countless times since. Along with these dreamy rice balls, you will find deliciously crispy fried chicken, soups and ramen at most convenience stores. The ice cream selection in these tiny shops is also unparalleled! The mochi ice cream and vanilla filled wafer ice creams were my favourites, with small chocolate covered ice cream bites being a clear winner too. It seemed to me that each evening I went into a convenience store I discovered something new that I just had to try, and not one of the purchases I made was a disappointment.
Although I did enjoy my convenience store snacks and Michelin starred meals immensely in Japan, I will never forget the very affordable sushi I ate at Tsukiji fish market, one of the largest fish markets in the world. Visiting this market is an experience in and of itself, with row after row of endless fresh seafood and produce. Live lobsters, crabs, sea urchin and octopus are seen displayed proudly on beds of ice along with fresh caught tuna that look as big as most people! If timed correctly you can witness the top chefs of Tokyo come to the market to bid on the catch of the day, and locals who keep an eye out for who took the best cuts, thus indicating where the most delicious meals that day can be found. In addition to seafood the market also has a produce section where the prices of some of the fruit will make your eyes pop and your wallets significantly lighter. Melons, white strawberries, mangoes, square shaped watermelons and unbelievably large grapes can cost hundreds of dollars, and while I personally did not try any of them, the vendors assured us that they are the most delicious in the world.
When you have had your fill of wondering this vast market and all the curiosities on offer inside, there are a number of eateries to choose from in the vicinity. The most famous of these is Sushi Zanmai, recognisable by the statue of a chef with arms outstretched that is located right outside the restaurant. While many Sushi Zanmai locations have opened around Japan, the one in Tsukiji is the original and well worth the visit. This is where I tried the most perfect sushi in the world. Each piece was handcrafted before my eyes by lightning speed hands, creating the perfect bite of rice, wasabi and fish caught just hours earlier. As Japanese locals will tell you, California, spicy tuna and other "fancy" rolls are international variations of traditional Japanese sushi. Stick to the simple salmon, tuna, octopus and eel varieties. As mentioned, the expert sushi chefs will place the appropriate amount of wasabi inside the sushi itself, and the only accompaniments you are given are soy sauce and pickled ginger. Most Japanese people eat sushi using their hands, dipping the sushi into soy sauce fish-side down and following each sushi roll with pickled ginger to cleanse the palette. Even if you have tried sushi at the very best restaurants worldwide, the sushi at Tsukiji is unlike anything you've had before and will redefine the way in which you view the art of sushi making, and how you judge the flavour of raw fish. If there is only one recommendation you take from from all my ramblings make it this one!
The name Hiroshima is evocative of one of the most tragic events of the modern era. This city is a living testament to the notion that we must strive to do better as a global society to prevent any such tragedy from occurring ever again. Visiting the museum and Hiroshima Peace Memorial Park dedicated to the victims and city of the world's first nuclear attack along with the flame of peace which will burn here until nuclear weapons are abolished, is an experience I will never forget. However, what was most interesting about my visit to Hiroshima was that this is not a city that lives in sadness. The past of the city is honoured at every turn, but the people are vibrant and the city is alive and thriving.
Hiroshima is also the birthplace of Okonomiyaki, a delicious sizzling meal which according to our guide means something along the lines of "cooked how you like." This is a multilayered pancake-like dish prepared on a hot griddle, and each table in Okonomiyaki restaurants has its own smaller scale griddle upon which your pancake is placed when serving. You are also given a plate and a small sharp edged spatula-like utensil. The idea is to cut wedges or slices of your Okonomiyaki off and eat them. The "pancake" itself consists of several layers, starting with a batter base which is topped generously with shredded cabbage, noodles and fillings of your choice (such as seafood, pork and egg). The layered pancake is then topped with the famous Okonomiyaki sauce and mayonnaise and is ready for consumption. This dish was one of the unexpected highlights of my trip to Japan as I had never heard of it before visiting Hiroshima. Since discovering my love for Okonomikayi, I have learnt that several restaurants in Kathmandu also serve it, so head to a Japanese restaurant here in Kathmandu to get a taste of this Hiroshima speciality. I promise you, you won't be disappointed.
Whilst in the Hiroshima area, I would recommend a ferry trip to Miyajima, an Island off the coast of Hiroshima known for the famous Itsukushima shrine and the famous Torri gate which stands in the sea in front of the shrine and which looks as if it is floating on the water's surface when the tide is high. For the sweet toothed traveller, this island is more than a serene and spiritual destination, but is also somewhere you can try Momiji Manju (aka maple leaf cakes). These soft sponge cakes are made with mesmerising efficiency at cafes on Miyajima Island through a combination of machinery and meticulous manual efforts and are most often filled with mildly sweet red bean paste. Our guide on the island told us that these cakes are traditionally enjoyed with matcha, made the proper way using warm water and a bamboo whisk to achieve the perfect frothy consistency. We were also told that the best way to ascertain the quality of matcha is very simply based on its colour. The deeper the green, the better the matcha. The slightly bitter and creamy matcha made the perfect companion to this sweet treat, which can also be found with more modern fillings such as custard and chocolate (though our guide was adamant that everyone must try the red bean variety, and I must say I agree with him).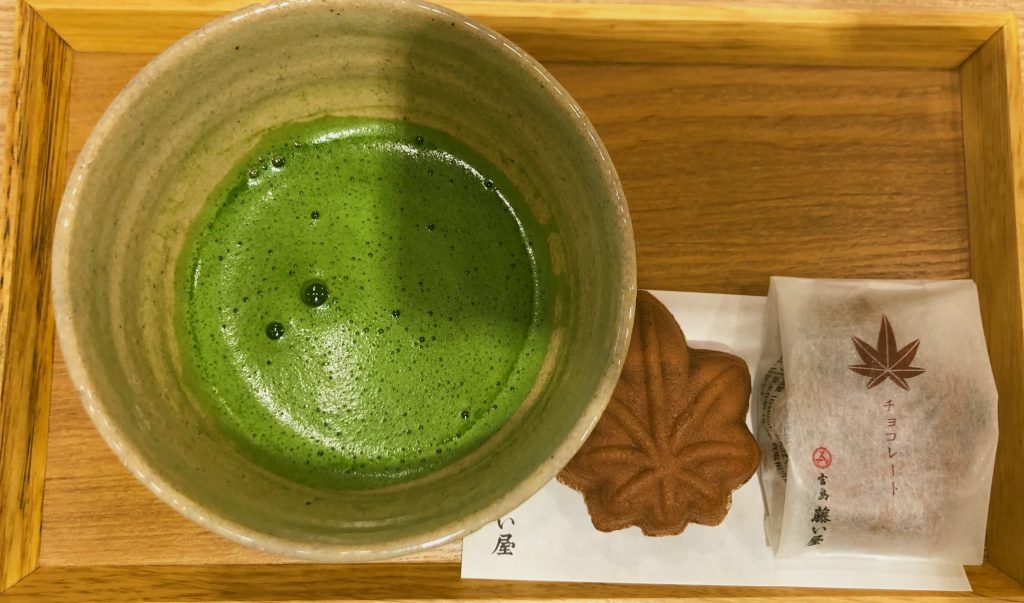 Other memorable Japanese foods that I enjoyed during my trip, which I would highly recommend trying, and which are available throughout the country, are Katsu Curry (arguably the best Japanese dish which masu-bhat lovers will thoroughly enjoy), Tempura (especially the prawn and soft-shell crab varieties), Gyoza (imagine if a momo moved to Japan) and Dorayaki (like an American pancake stuffed with sweet red bean paste).
If you can believe it after reading about all my food recommendations, I did actually spend most of my time in Japan sightseeing and learning about the beautiful culture of the country. The markers of the Edo and Meiji periods, which spanned from 1603-1868 and 1868-1912 respectively are of great interest, as are the many Shinto Shrines found around Japan. Of course the nation's deep bond with Buddhism is also notable and I would urge Nepali visitors especially to explore how Buddhism has become a national way of life in Japan. Below I have listed the sites that I visited in each city that was included on my trip, and hope that it helps you plan your own visit!
Kyoto:
Kinkakuji Temple
Nijo Castle
Tenryuji Temple
Sagano Bamboo Grove
Sake Breweries
Fushimi Inari Shrine
Nara – a couple of hours from Kyoto:
Todaji Temple
Nara Deer Park
Kasuga Taisha Shrine
Gion District
Hiroshima:
Hiroshima Peace and Memorial Park
Atomic Bomb Dome
Shukkeien Garden
Miyajima – a ferry ride away from Hiroshima:
Tokyo:
Imperial Palace and Nijubashi Bridge
Yasukuni Shrine
Sensoji Temple
Nakamise Street
Tsukiji Fish Market
Hamarikyu Garden
Meiji Shrine
Hakone – a couple of hours from Tokyo:
Hakone Ropeway
Lake Ashi Cruise
Owakudani Valley
Kamakura – an hours drive from Tokyo:
Hasedera Temple
Komichi Street
Yokohama:
Red Brick Warehouses
Cup Noodle Museum
What I have described here has only scratched the surface of the variety of Japanese cuisine and culture and while I cannot claim to be an authority on Japanese food, what I can guarantee is that regardless of where in Japan you go, the food will undoubtedly impress and satisfy you to such a degree that you will start planning your second visit to the country before the first is even over.
---
Please note that Aviskara does not encourage unnecessary travel during the ongoing Covid-19 pandemic. All visits to foreign countries mentioned above were made before the pandemic. While we hope that it will soon be possible for us all to travel freely soon, we urge you all to stay safe and cautious.